About Procer
We are PROCER COMPANY. Maybe you do not know us yet, but you see our products daily. Our products are in your neighborhood since 1990. If we did not work together so far, we are pleased that you are now interested in our products. Please allow me to tell you a few things about us prior to our meeting.
We are a company with young and dynamic personel, privately owned with 100% Romanian capital. Our company was based in 1990 and is one of the most serious and complex companies of import, export and distributorship of beverages from South-East Europe. Our portfolio consists of more than 1000 drinks very carefully selected, permanently held on stock of all range (beer, wine, soft drinks, energy drinks, and spirits).
With products from more than 50 countries, our portfolio is structured as follows:
- Brand products, only the most appreciated international brands, that we want to bring close to you;
- Products for ethnic market: that includes products for the communities from ASIA (Thailand, China, Vietnam, Indonesia, Japna and India); EUROPE (France, Italy, Belgium, Spain, Greece, Poland, Bulgaria, Finland, Lapland); AMERICA (SUA, Canada, Mexico, Uruguay, Brazil, Chile, Argentina); Australia.
- Products "value for money": products with an excellent and correct quality-price ratio. We own and deliver spirits, wines with very attractive prices, soft drinks with excellent prices and beers with the most competitive quality-price ratio.
PROCER's products can easily be found throughout entire Romania on the shelves of big retailers, but also on the traditional market on and off trade.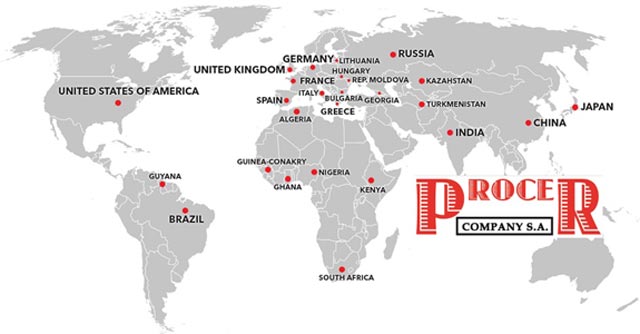 ---